Notifications
Order at least 24 hours prior to pick up SIM.
Check Voucher to collect your SIM card.
Download Voucher file on your phone.
Make sure your phone is unlocked.
Order for multiple QTY at once is possible,
One person can use one line.
Descriptions
Ace C Plus can use both Data and Voice.
You can collect SIM at Airports.
SIM Service Runs on reliable KT network.
Data :
Offers unlimited data at speed of 5Mbps.
Supports Tethering and Hot Spot.
Supports all of Voice Talk Apps.
Talk and Text :
Overseas & Local Calls are available.
Incoming Call & Text are for free.
KRW 11,000 is credited for Talk, Text.
When use Talks, Texts for outbound, balance will be deducted.
The Top 5 FAQs
1. How can I get Voucher for pickup after placing a my order?

Voucher for collecting eSIM is in the confirmation mail.
Download Voucher on your phone.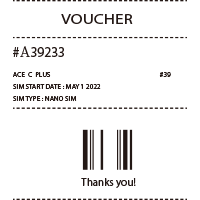 2. Where can I pick up my SIM card?

Voucher and Passport or Korean ID/Drive License
Make sure Pickup point and time in advance.
Incheon Int'l Airport Terminal 1
Incheon Int'l Airport Terminal 2
Busan Gimhae Int'l Airport 
Busan Harbor International Passenger 
–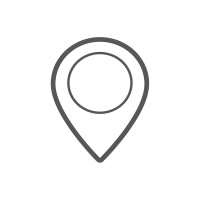 3. Is it possible to use Mobile Self-Authentication?
It is Supported only for holders of ARC or Certificate of residence in Korea as foreigner who purchased over 30-DAY Plan.
4. What are the rates for overseas and local call, text?
Credit KRW11,000 can be used is as below.
Local Call : up to 42 Mins, or
Local SMS : up to 100 Texts
USA, Japan, Taiwan, HongKong, Singapore : KRW 15.84 /sec
Australia: KRW 21.56 /Sec
5. How do I get started my New SIM Card?
Insert new SIM into your phone .
Check KT LTE Signal and Enjoy it!
Contact us immediately, what if SIM is not working,
6. How do I recharge my SIM Card?
Price :US$ 34.28 (KRW 36,000)
You can recharge it every 30-DAY.
You can recharge it every KRW 11,000(US$10.47) within expiry date when used up Voice.
After expiry date, user can't recharge or reuse SIM.
Before the pickup date: fully refunded.
After pickup date : pickup date is amendable or
90% amount of the total paid price will be refunded.(10% handling fee)
Contact us promptly if you want to amend or cancel your order.
–
Open Live Chat : Kakao channel
–