What is the difference between Free A, Free S and Free 100?

KOR
– Hi, the table below is a brief guide for your understanding on our diverse plan.
– You can find out which SIM Cards is the most suitable for you with comparing several points from table below.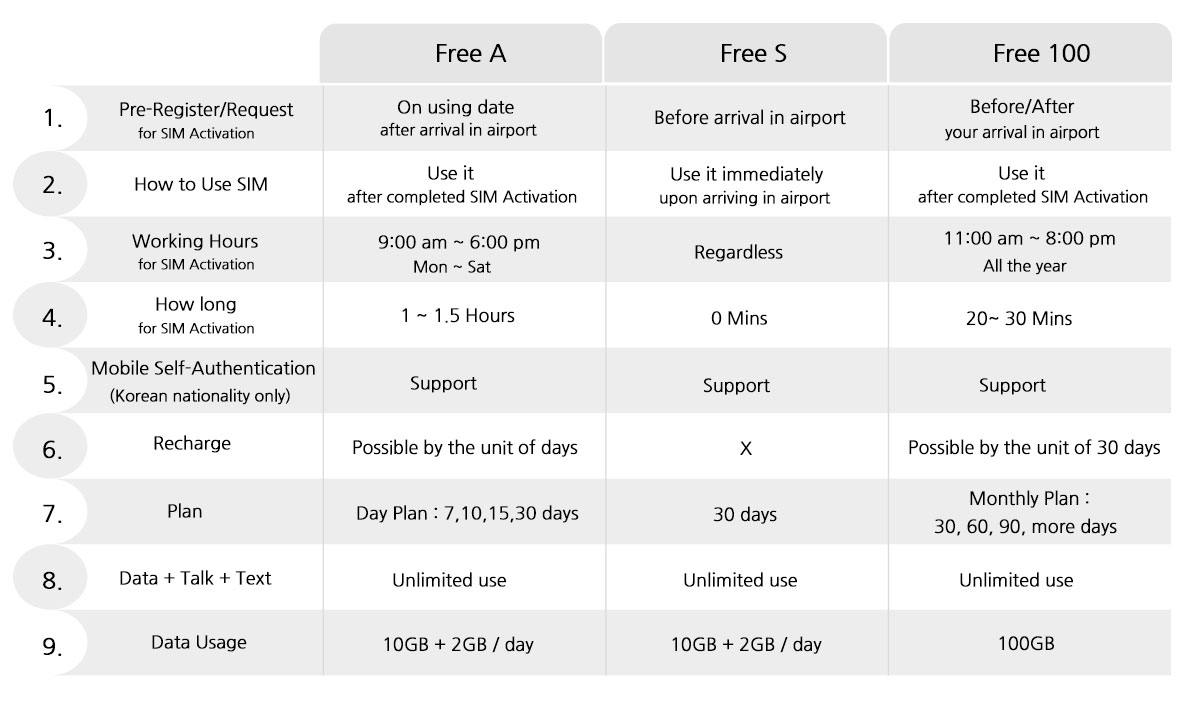 * Notes
– The following types of numbers in Korea, calls to 15xx, 16xx, 02-15xx,02-16xx, 050,060,013, video call,
– are excluded from the unlimited free call service.
– If you use these chargeable numbers above, it results in the reduction of the expiry date of using your SIM.
* Pre-Register for SIM Activation :
– It means that user have to apply to registration form before using a new SIM Card in Korea.
* Mobile Self-Authentication Service
– The service is supported only for Koreans.
– It refers simply to get verified services of real name with your phone number of Korea.
– when sign up for an internet site (i.e. where pay bills and Make purchases items)
– when verify your identity for your reference.
– To see more details >> tap here!
* Data Usage
* Free A and Free S  : 10 GB + 2 GB/Day + 3 Mbps
– it means after usage 10 GB, extra 2 GB is offered daily and
– After 2 GB of usage per day, data speeds is limited 3 Mbps on remain times of the day.
* Free 100  : 100 GB + 5 Mbps :
– it means after 100 GB of usage, data speeds is limited 5 Mbps on the remaining periods of the 30 days.