Troubleshooting Tips when SIM is not working.

KOR
After switching New SIM Card, most Korea SIM Cards are automatically connected and work immediately.
However, sometimes you might feel embarrassed because it doesn't work automatically.

Please check if you meet the trouble one of following cases or not.
1. When meets the connection error of service provider network of 4G LTE
2. When your Phone is Locked.
3. When it is defective as the "No SIM" signal.
  
Let's see more details above three trouble cases.
1. When meets the connection error of service provider network of 4G LTE
(1) No connection is as No service.



This is the  most common case happened because the mobile phone does not recognize your SIM quickly and cannot connect. Try to do below as there is no special problem.
– Turn your phone off and on two or three times in succession and
– it will be connected to the LTE Data.
– Sometimes you need to repeat it more times depending on the condition of your phone.
(2) When calls and texts are available but LTE data is not available
In general, the APN (Access Point Name) of the Service Provider is automatically set so that you can use the LTE data when you switch new SIM into your phone.
If APN doesn't set automatically, you can only use calls and text and no LTE data.
In this case, you can use LTE data right away by do setting APN manually below as instructed.
– APN Setting for Android
– APN Setting for iOS
– APN Setting for Window
– APN Setting for Blackberry

(3) When LTE data is available only but not for call or text
To use calls and texts in Korea, your phone must support 3G (WCDMA) networks.
If not, you can't use calls/text in Korea and just for LTE data only.
Check your network support first on your phone before visiting Korea.
– How to check network support
(4) When you receive a text saying that you cannot use calls, texts or data and can only receive it.
– Related Products: My SIM Free A, Plus A Plan
– The SIM card must be activated before use.
– If you use it without registering the SIM, you will receive text messages below.
– "Your credit balance runs out and you can only receive incoming calls from now and use after additional recharge."
– You don't need to worry and can use it right after by do SIM Activation below.
– How to do SIM Activation
2.When your Phone is Locked
Make sure you have an unlocked phone ready to use in any country. If you switch Korea SIM into locked phone, it will appear in various types of the phone screen as below.
* For iPhone : SIM Not Supported or SIM Not Valid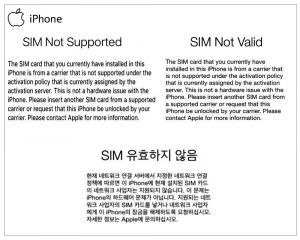 * Android phone : 
– Operator change (Galaxy S10) or
– Enter SIM card network unlock PIN or
– The SIM card is incorrect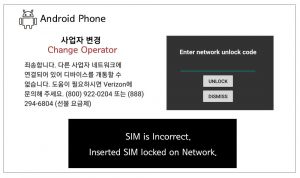 At first glance, You might think there is a problem in new Korea SIM card.
But it's precise meaning is what the phone is locked and cannot accept new SIM card except your original one.
Please check if you need to apply for unlocking or not with your mobile operator before entering Korea.
– It takes some times in some cases to complete this process.
– You can get information by searching " unlock request" of your mobile Company.
– If you are using the AT&T, you can apply for unlocking online and receive the PIN number on the same day so you can use it in Korea. See the online application site here.
Tip : You can easily check if your phone is unlocked or not.
– It is unlocked phone if phone works well when you switch others' SIM into your phone.
3. When it is defective as the "No SIM" signal



Just for your reference, because this happens rarely on these days. Instead of displaying the LTE connection signal on the top of the phone, "No SIM" is shown and does not work.
It is defective when the same phenomenon occurs if you replace it on another person's phone. Contact us immediately and we will exchange it for you.