*
Scan your QR code and connect instantly.
No Need Pickup and Delivery.
Easy to use without any hassle.
Keep your original SIM for Voice.
SIM Service Runs on reliable SKT network.
Unlimited LTE Data Only Allowance
Offers unlimited Data at speeds of 10Mbps.
Supports Tethering and Hot Spot.
Outgoing & Incoming Calls are Not available.
Voice Talk Apps is available.
Make sure your phone is unlocked.
Your Phone must be compatible with the eSIM.
Make Sure our Refund Policy at the last line.
You must scan QR code within 60 days from purchase date.
Once QR code is scanned, No longer it can use on other device.
iOS should be at least version 15.0 or higher for using eSIM.
iPhone 14, 14 Plus, 14 Pro, 14 Pro Max
iPhone 13, 13 Pro, 13 Pro Max, 13 Mini
iPhone 12, 12 Pro, 12 Pro Max, 12 Mini
iPhone 11, 11 Pro, 11 Pro Max
iPhone SE, XR, XS, XS Max
iPhones from mainland China and don't support eSIM.
iPhone devices from Hong Kong and Macao only for iPhone 13 mini, iPhone 12 mini, iPhone SE 2020, and iPhone XS support eSIM.
Learn more about eSIM supported, tap here.
Check your mobile devices manufacturer if any other handset above is eSIM compatible.
03-DAY,    72hrs : $14.09   ($15.65)
05-DAY,  120hrs : $21.52   ($23.91)
10-DAY,  240hrs : $30.13   ($33.48)
20-DAY, 480hrs : $47.35   ($52.61)
30-DAY, 720hrs : $55.96   ($62.17)
–
Surtax 10% Included.
Receiving QR code Via email
–
You will receive an confirmation email immediately.
–
You will get the QR code of eSIM in 15 minutes from your order within our business hours.
–
Biz hours : 09:00 ~ 20:00 all the year.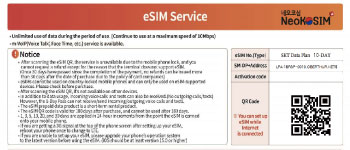 Setting up eSIM for iPhone
Print out or display QR code on other device.
Stay connected to a stable Wi-Fi network.
–
In "Settings" select "Cellular Data".
–
Select "Add a cellular package".
–
Scan the QR code and register the eSIM
.
*
It's possible to re-activate eSIM by same QR code on the same phone if you have removed its plan by mistake.
–
eSIM will be activated once you arrive in Korea.
–
Try to do eSIM Setting on your phone.
–
Reboot your phone 1 or 2 times.
–
Check SKT LTE Signal.
–
Enjoy it !
Contact us promptly if you want to amend or cancel your order.
–
Open Live Chat : Kakao channel
–
–
Our Refund Policy is as follows.
When receiving or scanning QR code.
When your phone is locked.
When SIM works on only 3G Signal due to your phone doesn't support LTE.
Before receiving QR code.