How to fix when data can not to be added on iPhone
"Data Can not to be added"
There's no longer valid code error. Contact your carrier for more information.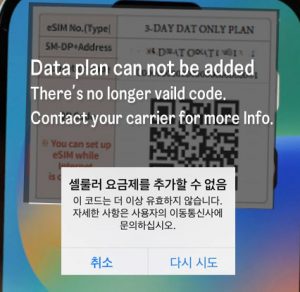 After activating your eSIM via QR code or manual activation code, you can see the above error message on your iPhone.
If you are installing the eSIM for the first time, this error message could be due to a poor connection, VPN enabled, or too many eSIMs installed on the device.
How to fix
1. Check internet connection.
– Make sure your phone has a working Wi-Fi or
– cellular internet connection before installing the eSIM.
– Internet connection is required to verify and
– Remove any eSIMs you will no longer use.
– Activate the eSIM.
2. eSIM is already installed.
– eSIM is already installed on your phone.
– This can happen after scanning the QR code.
– Verify following steps:
1) Open Settings > Tap Cellular > Select the eSIM plan.
2) Confirm Turn On Line is on.
3) If you can find the SKT eSIM following the steps above,
4) the eSIM will be ready to connect automatically.
3. Get Customer Support.
– If you have verified that the eSIM is not installed on your phone,
– contact us for assistance immediately.