How would I Know if my phone is locked?
In order to find out if your phone is locked, be sure to follow two cases below.

Case 1 : Before switching New SIM Card
Method 1: General Method
– Just Dial *#06# on your phone. Your phone's IMEI number appears.

– Call your carrier and ask them to confirm your phone's status.
– They'll be able to tell you whether your phone is locked or not and and advise how to make for unlocking.
Method 2: Using a Different Carrier's SIM Card
– Borrow a different carrier's SIM card.
– Power off your phone and switch another SIM card.
– Turn the phone back on and try to make a call.
– If you are unable to make the call and you're certain that your phone is locked.
* Important Notes
– In Case of USA,
– you have to call your carrier and ask them to confirm your phone's status whether it is country unlocked, which can be used abroad.
– Because some times it is unlocked between carriers in the US, but it might be locked for overseas use.
– If you have troubles on your phone even if there was no problem in checking with Method 2 above, this is it just the phone is locked as above reason.
Case 2 : After switching New SIM Card
Follow these steps to use New SIM Card
– Turn off the phone.
– Remove the existing SIM Card.
– Insert an activated new SIM Card and turn on.
– If it appears on your phone as follows, it's certainly locked:
– The status is shown as follows depending on the level of the mobile phone.
– Please aware that your phone is locked and is not the problem the New SIM card.
In case of android phone
– Depending on the specifications of the phone, it appears various as follows.
– "Unlock PIN Code
– "Enter network unlock code "
– "SIM is incorrect"
– "SIM Network Unlock PIN Code"
– "Change operator"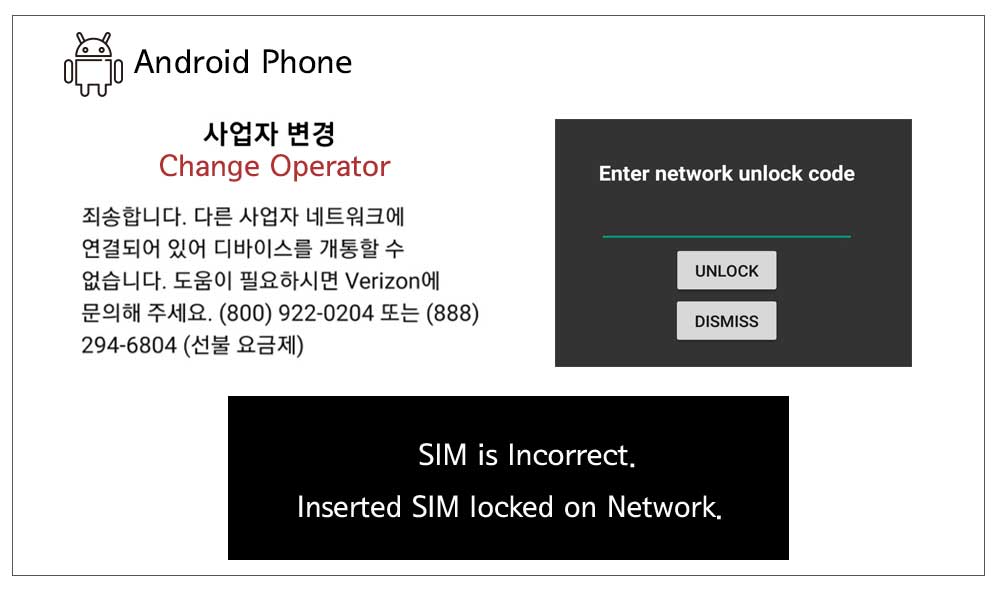 In case of iphone,
– "SIM not supported" or
– "SIM Not Valid "
The SIM card that you currently have installed in this iPhone is from a service provider that is not supported under the activation policy that is currency assigned by the activation server. This is not a hardware issue with the iPhone. Please insert another SIM card from a supported service provider or request that this iPhone be unlocked by your service provider. Please contact Apple for more information.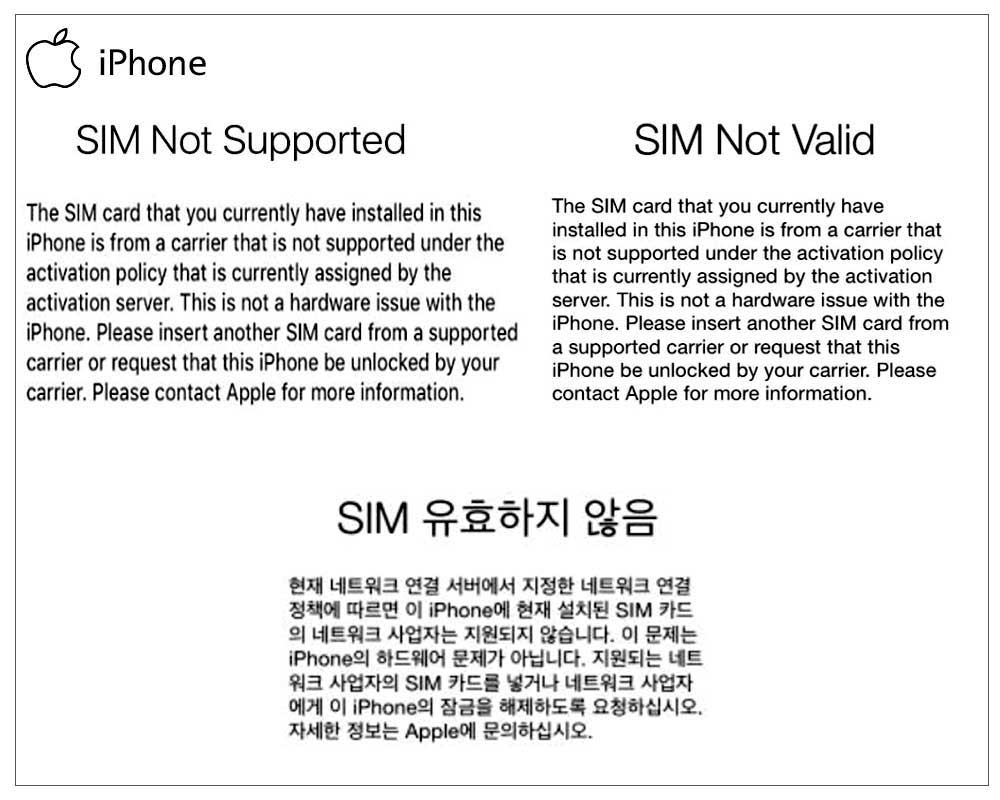 It means that your new Korea SIM card is not accepted because of your phone is locked.